4 Alternatives to Twitter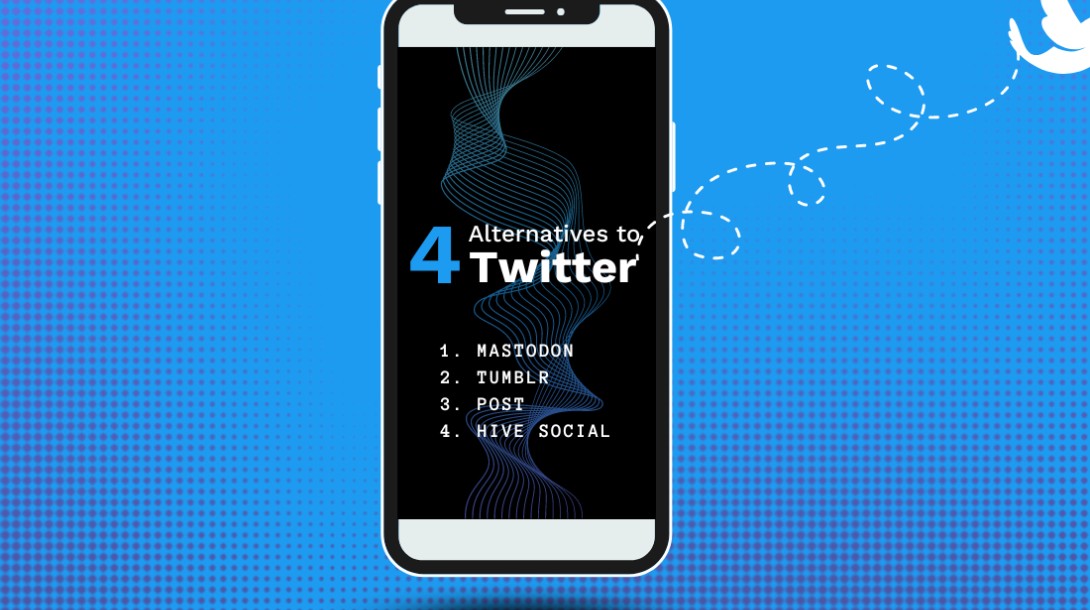 Since its public launch in 2006, Twitter has evolved from a site designed for friends to connect with each other, to a tool that has had a pivotal role in politics, social movements, humour, momentary viral fame, and breaking news. Following Elon Musk's takeover of the popular site this year, it is hard to say for certain what changes await Twitter, but the consensus seems to be that Twitter's demise is unlikely. Although there have been concerns about the site "breaking" following massive layoffs, it has become increasingly clear that, at the very least, the idea of Twitter will live on.
If you're like the majority of Twitter users, you're likely confused and worried about the uncharted territory that lays ahead, and are weighing your options about whether you should stay, or abandon the site entirely. Keeping in mind some of the Twitter's main uses (news updates, humour, community and connection), let's look at some alternatives for those who are thinking of jumping ship:
"A decentralized network deliberately relinquishes control of the platform owner, by essentially not having one"
— Eugen Rochko (Mastodon Creator), Dec. 30th, 2018
Possibly the most popular site that ex-twitter users have flocked to in the past month, Mastodon has caught the public's attention for its layout's similarity to Twitter, and has been described as a network of websites where profiles are only able to be viewed by entering users' complete Mastodon address. Having grown by 700,000 users in the week following Musk's takeover of Twitter, Mastodon paints a future of microblogging free of any central authority rule: 
Operates in a decentralized way: you sign up, choose a server (known as an "instance"), set up your "website", where you can post messages, upload pictures and talk to each other

Described as the "Fediverse", a Mastodon account can give you access to other decentralized social networks

Server admins can set up their own moderation policies, including joining requirements

Does not advertise a post's popularity or virality, allowing users to formulate their own opinions on shared content 
Things to consider:
With the setup of your Mastodon server, it's important to know the laws that apply to it in the event that users break any laws regarding copyright, racism, sexism, and more. For more insight on these intricacies, Harrison Pensa has published a blog for legal pitfalls that may apply to these scenarios.
"Reason to Join Tumblr #23:

There are not ratios on Tumblr."
— @ TUMBLR (ON TWITTER)
A nostalgic app for many tenured internet users, Tumblr has welcomed the Twitter exodus with open arms, and has even begun courting potential users through a twitter thread which gives a variety of reasons to join (or rejoin) the site.
Tumblr combines longform blog-style posts with gifs & pictures, and was once home to 100 million users at the height of its popularity

Boasts a reverse chronological order that adds to its addictive nature, with users being able to scroll from newest to oldest content until they reach the end of their favourite blog

Has large 4,096-character limit of with the ability to edit content once uploaded
With Ryan Reynolds' recent announcement of his departure from Twitter to Tumblr, the site has seen an uptick in activity over the past month that could continue to grow as Twitter works through its unpredictable introduction and removal of features. 
"Post will be a civil place to debate ideas; learn from experts, journalists, individual creators, and each other; converse freely; and have some fun."
— NOAH BARDIN (POST FOUNDER)
Founded by former CEO of Waze Noah Bardin, Post has created buzz in the digital sphere as an emerging Twitter competitor, offering users the ease of viewing a variety of content without having to leave the website.
Posts can be written of any length and be shared broadly

Provides the ability to comment, like, share, and repost content

Users will be able to buy individual articles from different premium news providers from the ones they're subscribed to, with the intention of being exposed to "multiple perspectives"

Possibly the most interesting feature of Post: using integrated micro-payments, users will have the ability to tip creators of engaging content to help them create more of it, 
Although not yet available for use as the Post team works through developing their features and fixing bugs, users who are interested in their platform can now sign up for a waitlist.
"Bringing back what you used to love about social media in a new way. Profile music, text and image posts, polls, Q&A, and so much more!"
— HIVESOCIAL.APP
Having grown to 1.5 million users in November, HiveSocial is run by its 24-year-old founder and only 2 other employees. Although it is still working through some bugs, the app envisions a platform that solves the "pressures of complicated algorithms" felt on other big social media apps, while figuring out a way to balance free speech and content moderation. 
Emphasizes a chronological order feed without the downside of social apps that have fallen victim to algorithm-heavy features

Features allow you to post images, videos, gifs, and polls

Users can choose profile music, as well as a colour theme
With changes happening at such a rapid pace, the tech world is looking to fill the gaps that will be left open as Twitter continues to transform. Although it can be difficult to guess what will become of the hugely popular site, what we do know is that new apps will continue to emerge and grow, offering features and services that could make up for Twitter's pitfalls, and provide unexpected benefits that could improve our digital communities.