January Social Media Roundup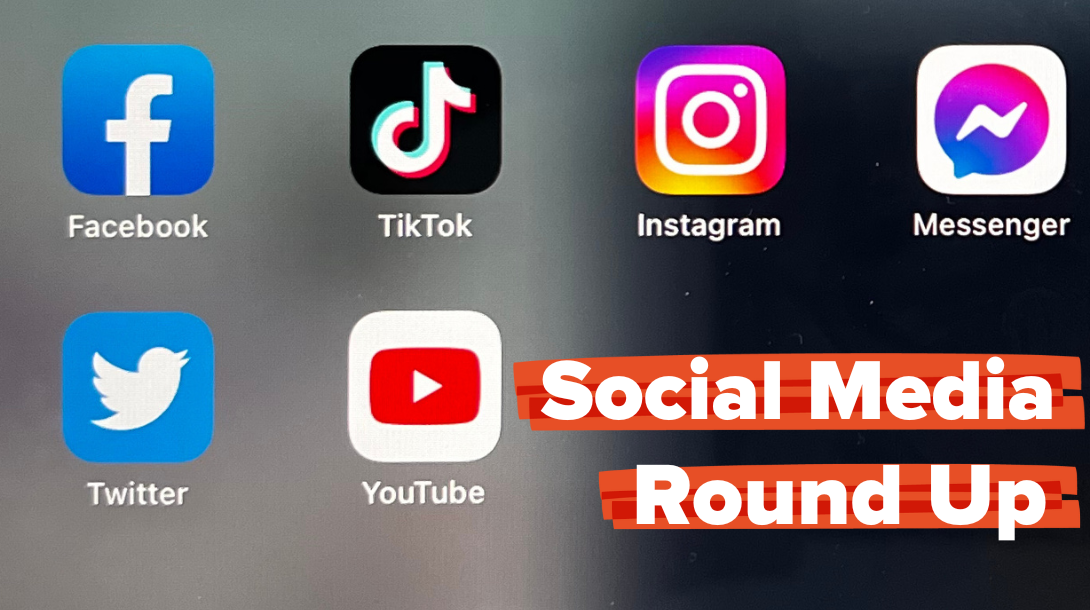 We get it! There's so much on your plate and it can be difficult for you to sit down and spend hours looking for the latest social media updates and releases. That's why, we got you! Take a look at some of the latest social media updates and learn about ways you can amp up your social media marketing strategy this year.
Instagram has launched a killer feature that lets you pause notifications and gives you a new way to focus and manage your time. But, iIf you have an iPhone and use the "silent  mode", this feature should not come as a surprise.
 When users turn quiet mode on, all instagram  notifications are paused. With this, the activity status of the user profile changes to "in quiet mode". If a direct message is sent during this time, the sender will receive a notification that the receiver has turned on Instagram "quiet mode."
This can be helpful for social media marketing managers who need to prioritize some work-life-balance, or for any person looking to focus but thinks ignoring DMs is rude.
Do you hear that? The sound of silence.
Instagram is redesigning their app-navigation buttons for a simpler user experience. This February, Instagram will return the compose button (+ sign) to the center bottom of the app, replacing the reels tab. The reels tab will then be moved to the right of the compose button, removing the shop button from the home screen. The new changes will move the shopping tab under settings. Instagram pushes to return the compose button back to assure its users that photos are still the platform's priority.
Finally! A show of hands from the content creators who just want to get where they are going faster without worrying about accidentally window shopping for hours. *raises hand
We cannot be more excited that Instagram is starting to take steps to reprioritize photos on their platform.
Location tagging in short clips helps users stay in front of their intended audience. Although, currently, users can add location to shorts in post upload, Youtube is rolling out "Location Tagging". This new feature is  Youtube's pitch to help its users add more context to their shorts, find videos within a location, and view shorts that are in the same area by giving users an option to add location during the upload process.
Such changes support users adding more context to their shorts, help YouTube systems provide relevant clips to each user, and boost user engagement.
Have you ever tried searching for your city's location on social media platforms and seeing what pops up?
It's finally happening! Unlike long-form videos on YouTube, currently shorts are not eligible for monetization. However, for the coming months, this is not the case anymore. YouTube shorts are expanding its monetization. Creators can now earn from YouTube shorts and potentially get 45% revenue generated from their views. Ads that run between videos will help creators earn money. According to Search Engine Journal, "YouTube will add the revenue generated from ads in the Shorts feed and pay out a share to creators at the end of the month".
This is exciting especially for Canadian content creators because currently TikTok, a competitor of shorts, does not have the Creator Fund for Canadian creators.
Does everybody here know what Twitter's Community Notes are? Before Elon Musk took over, Community Notes used to be called the "Birdwatch". This feature aims to improve the quality of information available to Twitter users by allowing Twitter users to "collaboratively add context to potentially misleading tweets" through reports and links. Currently, the fact-checking program's main contributor is only the US. However, Twitter's community notes is now accepting contributors from the UK, Ireland, Australia, and New Zealand. The platform also promised to include other countries.
It'll be interesting to see how this open source feature contributes to the quality of information over time.
Elon Musk announced on Twitter last December 2022 that the platform will  now display view count. According to Musk, the  aim of this updated format is to help users better understand the reach of their tweets. The new feature should also encourage more tweets and activities, such as likes and comments from users. 
Twitter Designer, Andrea Conway shared new improvements on the view count display. Instead of displaying view counts in timelines, view counts can now be visible only when tweets are expanded.
Finally a Twitter announcement we can actually say is useful!
LinkedIn has shared some interesting statistics on their ads, performance, and engagements! According to their new infographic, the following are the highlights of their growth: 
59 million companies have joined LInkedIn Page, as of April 2022
At least 2.7 million of these pages post weekly. 
11 million members have used LinkedIn Creator Mode since 2020. 
There's been a 75% increase in engagement in their "spontaneous LinkedIn Live events."
LinkedIn members now have 25% more public conversations on the platform. 
LinkedIn members are viewing 22% more Feed Updates in 2020 YoY.
At rTraction we've noticed a shift on our feeds from more corporate sounding posts into more relatable, story driven, human posts, and we are here for it.
Meta's Creator Studio will soon no longer be available. Instead, the platform is prompting its users to use the Business Suite, which has more tools and options for page management. 
"…Business Suite is a more comprehensive Page management app, which includes scheduling and messaging features, as noted, but also includes helpful prompts, like top-performing post examples from Pages similar to yours, along with A/B testing tools, tags, and direct integration of Facebook and IG ad tools."
- Social Media Today
Have you ever used Creator Studio? Did you know it even existed outside of the Business Suite? Did you think they were honestly the same product and were sort of confused? From our personal experience with it, it makes sense why they are trying to make everything in one place, such as the Business Suite.
Learn something else that we missed? Let us know!