Goodwill Bookstore has an amazing community on Facebook that cares about thrifting, sustainability, and all things books! We wanted to grow that community by launching an Instagram.
Working with Goodwill Bookstore, we wanted to showcase more photography, and videography, and feature more content about literature, authors, and books available at the Goodwill Bookstore. 
The Goodwill Bookstore is amazing because not only can you find books at a discount that were donated by the community, but when shopping there you are also supporting the community as it provides work opportunities to those that need it most.
Objectives
Develop templates: Create a branded look when posting additional graphics
Launch an Instagram For Brand Awareness

Key Performance Indicators (KPIs): 

Increase Reach
Increase Impressions
Increase Engagement
Increase Followers

Grow Audience And Engagements With Fun Organic Content

Key Performance Indicators (KPIs): 

Increase Engagement
Increase Followers

Keep Current Facebook Audience Engaged With Fun Organic Content
Drive Traffic to the Online Store
Strategy
Working with Goodwill Bookstore we launched a branded Instagram, made a photography inspiration mood board, developed a content calendar with topics and themes, created a posting schedule, and had a short ad campaign for their 50% OFF sale in March.
We made sure to post interesting, relevant content related to books currently found in-store and important literary days. We made sure to use hashtags and provide store information so that people had an easy time knowing where to go or to click on the online store. Currently, our strategy is only organic posting with a focus on photography, but boosting top-performing posts and utilizing more Meta Ads would be great to additionally support this strategy.
Content Strategy
Content Themes Developed:
Themed Books, Bookstore History, Call For Donations, Staff Picks, Top 5 Picks, This or That, Book Tropes, Book Review, Cookbook Recipe, Author Highlight, Niche Item, Industry Fact, Quotes, Lifestyle Photos, BookTok Style Reels, ShopperClub, Sales.
Content Calendar Suggested Rotation:
Week 1: Themed books; Goodwill Bookstore history; Staff picks
Week 2: Top 5 picks; This or That (story); Book tropes
Week 3: Book review; Cookbook Recipe; Author highlight
Week 4: Staff picks; Niche item; Industry fact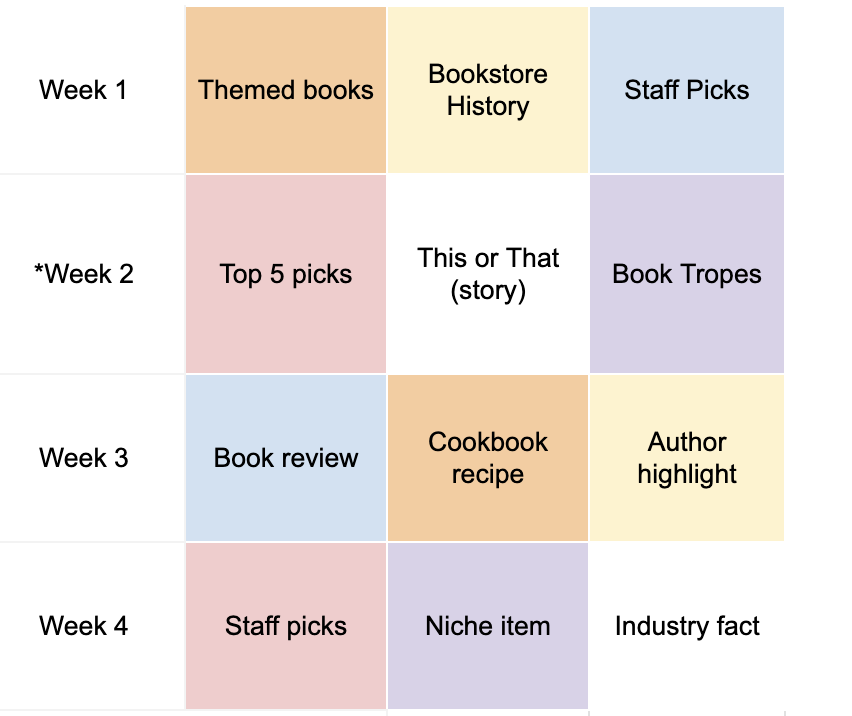 Platforms
Platforms Used: Facebook, Instagram
Rationale: Goodwill Bookstore already had an existing amazing Facebook community, we wanted to extend that community to Instagram to reach more people, especially those who love books! 
 
Results
There were incredible results from the short ad campaign which showed an increase in sales for both in-person shopping and online. Their Instagram has grown to 154 followers from organic content alone, and we saw significant increases in reach, impressions, and engagement across both platforms.
We continue to work with Goodwill Bookstore as an ongoing project.
We hope you check them out and give them a like and a follow!
 
An image capturing Goodwill Bookstore's post indicating they were nominated for Community Votes London 2023 for Best Book Store category.