The Opportunity
Goodwill Ontario Great Lakes came to us looking to rebrand and grow their existing Goodwill Hyde Park Boutique Instagram account. The organization was also looking to create a new account for the Goodwill Newmarket Boutique, where new branding was needed.  
The organization was looking for a more elevated and sophisticated look and feel. The social media refresh included templates, a new brand colour guide and the active management of Goodwill OGL's Boutique social accounts
Given the challenges of running these busy retail locations, staff were having a hard time keeping up! They were busy stocking the racks and packing curbside pickup orders - consistent photography and a posting schedule was rightfully not a priority.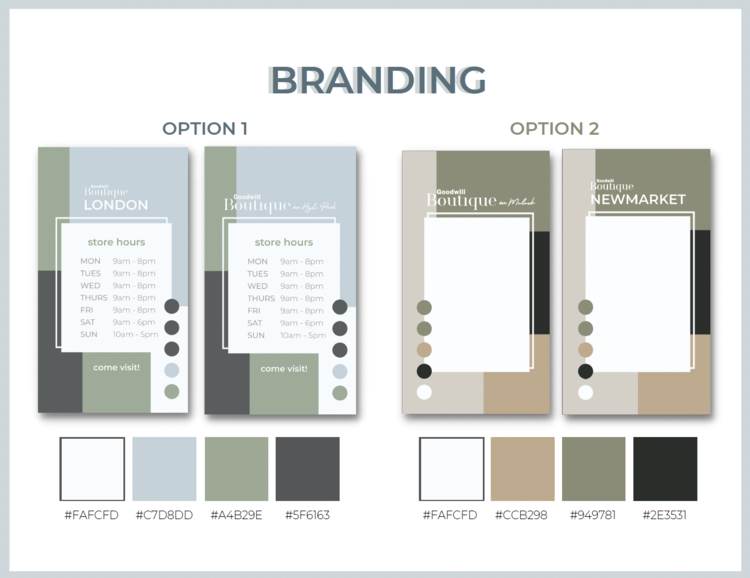 The organization was swift to keep up with changing retail capacity limits and introduce curbside pickup at both its Hyde Park and Newmarket Goodwill Boutique locations, which was made easier by introducing online ordering through their respective Shopify websites. 
Goodwill OGL wanted to promote this offering on its social channels and also wanted to take the opportunity to rebrand its existing social media presence to drive traffic to their ecommerce sites. 
The Result
rTraction conducted initial research and planning to strategize key content segments and developed a set of social media templates for the Goodwill Boutique to tell its unique brand story online. 
We launched a rebrand of the account in August 2021, which kicked off our ongoing collaboration with Goodwill OGL, including regular check-in meetings, photography and content strategy suggestions and regular account posting and monitoring.